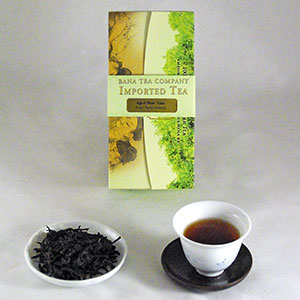 Aged Shui Xian Oolong Tea
Weight: 50 or 100 grams (1.65 oz)
Type: Wuyi Rock Oolong
Production area: Wuyi Mountain, Fujian Province, China

Taste characteristics:
Shui Xian is one of the major cultivars of Wuyi Rock Oolong. This aged Shui Xian was produced and aged in Wuyi Shan. After a decade of aging, this tea tastes woodsy and reminds me of Chinese herbs and aged tangelo peels. The smell of the wet leaves reveals mineral notes. What is impressive about this tea is its long "hui gan" (a cooling sensation in your mouth). Very relaxing, this tea offers a gentle and warming "qi".
BREWING INSTRUCTIONS:
Use 6-8g of leaves per 6 oz of water. Rinse with 195 degree F water prior to brewing. Follow the suggested steeping time below.
BREWING TEMPERATURE:

BREWING TIMES:
RINSE
1 sec.
1st BREW
10 sec.
2nd BREW
10 sec.
3rd BREW
20 sec.
4th BREW
30 sec.
5th BREW
40 sec.
6th BREW
1 min.
7th BREW
2 min.
8th BREW
4 min.